MBISS MBOSS BIS Sweeps AM/CAN GCH MyKiss Chips Ahoy WC RN CGC
X
Allsport Cawarra Betty Boop
BIS Sweeps BPISS MBPIG GCH Cawarra's Old Time Rock N Roll NTD CGN
"Seger"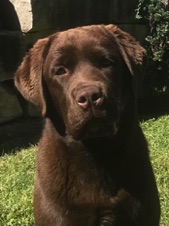 Seger is our youngest boy who we look forward to showing in the near future. He is a quality Labrador possessing sound structure and who has already proven his keen desire to please. He is an avid retriever and just a fun loving boy.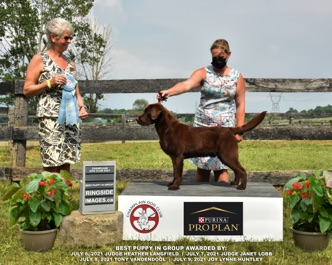 Show News:
BOB - Champlain KC - Judge Joe Lobb
BW, BPIG - Champlaine KC - Judge Heather Langfield
BW, BPIG - Champlain KC - Janet Lobb
BPIG - Champlain KC - Judge Tony Vandendool
BOB - Champlain KC - Judge Joy Lynne Huntley
BW - Champlain KC - Judge Allan Brown
BPISS - LRCO Day #1- Judge Valerie Walters
Critique - 6-9 Puppy Dog - #515 - Cawarra's Old Time Rock N Roll-
Chocolate baby, with soft expression, just right for his age, good length of neck, level topline, nice tight feet, moved well and with confidence, good angles front and rear, will be nice to see him when he matures.
Best Puppy
-LRCO Day#2 - Judge Gordon Hayburn
Critique - Junior Puppy:
1st and RWD) Kendall's-Cawarra Old Time Rock N Roll
7m/o Chocolate, showing nice balance for his age. Scores particularly well in front with a good layback of shoulder and already some nice fill in the chest. Moved out nicely on good legs and feet and will finish a good one. I expect to see him carry his champion title as he matures.
Best Puppy in Sweeps- LOC - Judge Don Spurr
Pedigree

MBISS MBOSS BIS Sweeps AM/CAN GCH MyKiss Chips Ahoy WC RN CGC
X
Allsport Cawarra Betty Boop
d.o.b.
Bred By: Cawarra Labradors - Diane Kendall
PARENTS
GRANDPARENTS
GREAT GRANDPARENTS
GREAT GREAT GRANDPARENTS
MBISS MBOSS BIS Sweeps Am/CAN GCH MyKiss Chips Ahoy WC RN CGC
Cedarwood Capability Brown@Blackthorn
Am GCH Venetians Copy That
AMCH WoodHull's Roger That
Venetian's Vidella Della
Cedarwood Divine Dark Guiness
AMCH Wilcare Leisure Suit Larry JH
Cedarwood Almond Roca Divine
Westlane's Sin City Show Girl
AMCH Westlane's Hollywood Hottie
AMCH Blackthorn King Of The Beech
Aldan Spiritwood's Hot Tomato
Spiritwood The Huntress At West Lane
AMCH Hyspire Adrenaline Rush
AMCH Spiritwood Lessons In Grace
Allsport Cawarra Betty Boop
Castilleja's Stewie Muskoka
Castilleja's TL Hot Sanka
AM/CAN CH Boothgate's Chief Producer WC
Castilleja's El Nina
Castlemorre Pepper At Castilleja
CH Tormentil Chablais Charlie Lad
Castilleja's Tessa O Terra
Castilleja's Cupcake At Allsport
Castilleja's Gentle Benjamin
Castilleja's The Mighty Quinn
Castilleja's Sweet Carolina
Keldea TL Pipin At Castilleja
AM/CAN CH Boothgate's Chief Producer WC
Keldea's Sabrina